3 Pinterest Marketing Case Studies to Reflect On
Even though Pinterest arrived at the scene relatively recently, it quickly made waves in the social media scene. Now that Pinterest has addressed user concerns about its Terms of Service, you should not be hesitant to use it in your social media marketing campaigns. But the question arises, how exactly should you use Pinterest to promote your business?
The idea of a Pinterest is, of course, not new. Many social bookmarking and curation websites before it allowed you to share pictures, with the same kinds of functionalities. Just before Pinterest, Instagram also made it big as a social picture sharing service. What makes Pinterest special is that it struck a nerve with the female demographic, which comprises most of its user base [source]. This is unique in the social media space, and is worth paying attention to as it means social media campaigns on Pinterest need to be handled differently than they are on other social networks.
Here are a few Pinterest marketing case studies on how the platform has been successfully utilized in social media marketing campaigns and what you need to know to start one yourself.
1) Calypso St. Barth – the Pinterest niche
Calypso St. Barth is a women's apparel luxury brand, and one of the few brands ahead of the curve on Pinterest. They were quick to partner with Pinterest user Christine Martinez to take photos behind the scenes of their latest summer photo shoot.
The Calypso St. Barth campaign works on Pinterest because their brand matches the kind of interests Pinterest users have. They were also able to conduct the campaign in such a way that it did not seem intrusive to the existing user-generated culture prevalent within the site.
2) McKay Flooring – using Pinterest and Instagram together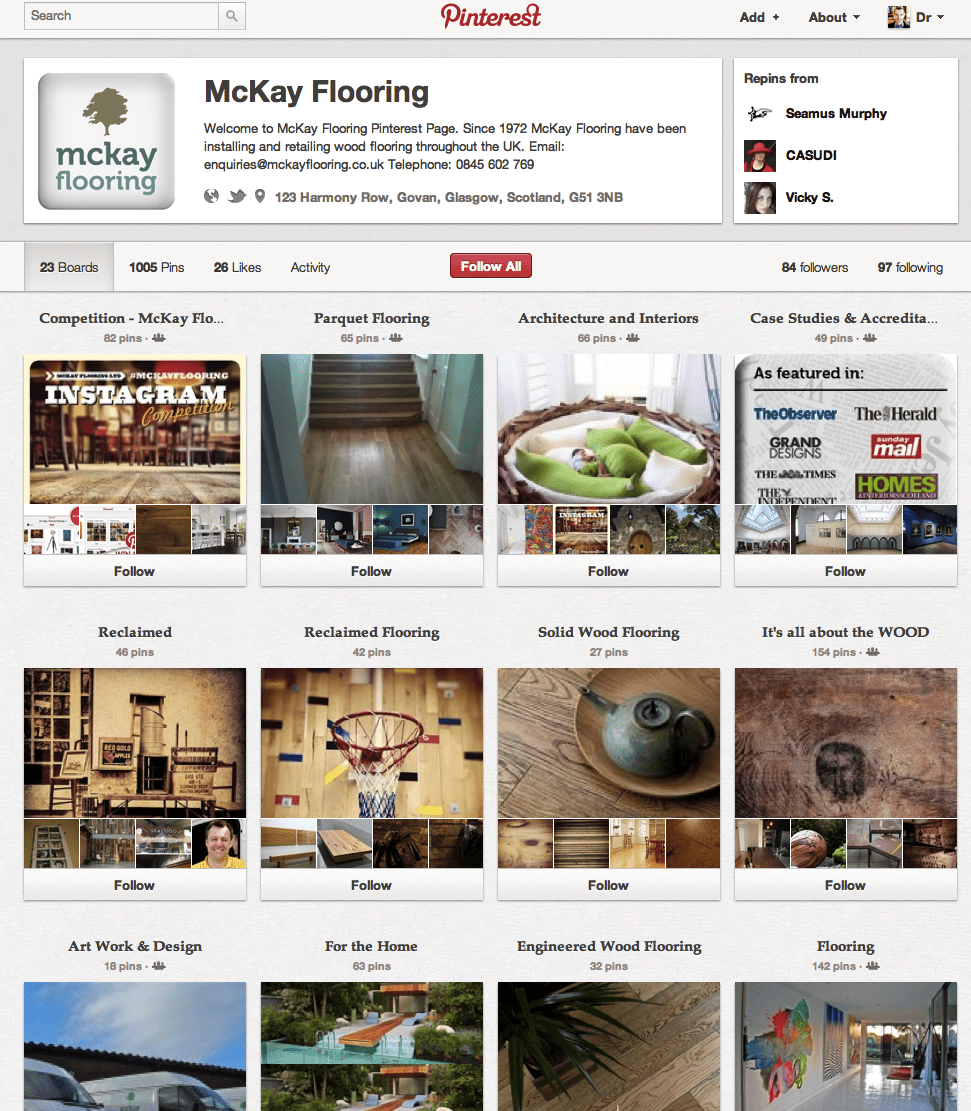 Who's to say you cannot use 'competing' social media services together? Not McKay Flooring, a wood flooring supply company in the UK. McKay identified the key differences between Pinterest and Instagram, and leveraged each services' strengths in their own promotions.
In this case, when McKay Flooring observed how Instagram conveniently connects to Twitter and allows hashtags, they used the service to run a hashtag contest. On the other hand, they also noticed how Pinterest allows users to categorize their interests onto different pinboards. Consequently, McKay Flooring used Pinterest to promote brand awareness, making their Pinterest account a virtual catalog of their products, as well as connecting with other Pinterest users and even running contests.
Here, it's important to remember that just because these networks are competing for attention does not mean you have to choose one or the other. It's better to spread your influence across different networks and figure out how to best utilize each to your advantage.
3) Toys-R-Us: pinning from email to Pinterest
Finally, Toys-R-Us reminds us that it's not too early to come up with innovative new ways to use Pinterest. Some marketers may be unaware or even dismissive of using email to drive people to social networks, but of course, social network accounts being email based themselves, it makes perfect sense to connect email marketing to social media marketing.
For more details on how to run campaigns on Pinterest, read the provided links. I also recommend and share the McKay Flooring case study. It goes into detail on what they have done and achieved, and gives suggestions as well.
As is true with other social networks, Pinterest is not for everyone, and there is a right way and too many wrong ways to market on it.